About the Photographer
Jack Ledbetter
Born February 11, 1961, Albany, Georgia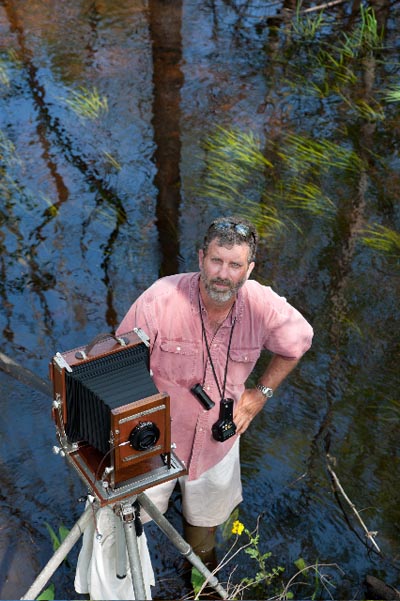 When Jack Ledbetter aims a camera at the landscape, at an element of New England architecture, at a nude framed by a Maine coast ledge, he brings a lifetime of photography to the moment. Committed to the art and craft of the lens since he was a youngster growing up in Georgia, today Ledbetter is a consummate camera artist, a master of light and composition.
Ledbetter's large Cibachrome color prints, coveted by collectors, display clarity of vision that invites the eye to linger and explore. Encompassing both expanse and detail, these photographs of Maine reward multiple viewings. They lead us into a special landscape, be it a view of Mount Desert Island from Baker Island, a complex patch of tidal ledge, or a crashing wave at Prout's Neck. The presentation of the image is impeccable, the sense of light and weather extraordinary.
Maine islands are among Ledbetter's favorite motifs; he spends as much time as possible exploring the vast archipelago in search of subjects. He is a master of the panorama, hiking to the top of Mount Desert Island's mountains or boating to an outer island in order to gain access to remarkable vistas. He knows that there is no forcing a sunrise or sunset, a bank of fog or tidal swells; patience is an absolutely necessary virtue. Stunning photographs bear out this willingness to wait for the perfect shot.
Every year Ledbetter produces a dozen or so new Cibachrome images in addition to pieces commissioned by clients (he often travels to fulfill these special assignments). He also works in series, as witness the impressive limited edition portfolio of photographs of the Rockefeller bridges in Acadia National Park produced in 2005-2006.
Rare among his peers, Ledbetter is as accomplished in black and white formats as he is in color. He highlights architectural elements—the shinglework on a church in Southwest Harbor, the steeple of a parish house in Castine—in a way that makes the viewer stop and admire them. Like Edward Hopper, he is drawn to the design of a church, a lighthouse, a barn.
Ledbetter's studies of Maine architecture are significant not only for their aesthetic qualities—clean lines, compositional finesse—but also for the record they provide of a vernacular that is fast fading. A preservationist, it is with regret that he notes the passing of a particular structure, lost to the elements and/or disregard.
Ledbetter is as practiced in his presentation of the figure as he is in capturing the landscape. In a series of nudes set among rocky outcroppings on Mount Desert Island, he highlights the beauty of the human body, contrasting the textures of flesh with the geological primacy of coastal rock. Where his landscapes and architectural studies are sharply focused, the nudes are more tonal.
Asked about his favorite photographers, Ledbetter invokes two American masters, Paul Strand and Walker Evans. He shares with them an appreciation for shape and light, for the beauty of a Maine steeple or an ordinary pump handle. Some of his knowledge of the history of photography derives from studies at the International Center for Photography in New York City in the early 1980s, but much of it comes from a personal desire to know and learn from his predecessors.
While Ledbetter has shown his photographs from time to time in Maine, in his home state of Georgia and elsewhere, he is primarily an independent artist who is happiest when ensconced in the darkroom developing a print. Arriving in Northeast Harbor in the mid-1980s, he exhibited work at Wingspread Gallery. A few years later he established his current studio and showcase.
Over the past decade and a half, Ledbetter has placed his photographs in prestigious private collections and museums across the country. Recently, the Portland Museum of Art and the Farnsworth Art Museum acquired his work. He has many clients who return every year to purchase an image of the Maine coast or one of his black and white prints. They recognize the work of a seasoned photographer who delivers the world to their welcoming gaze.